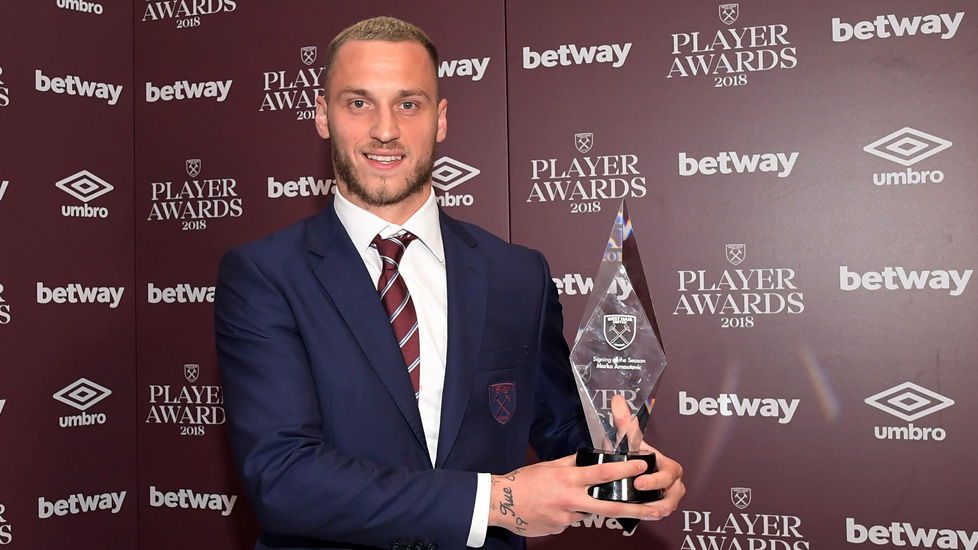 Marko Arnautovic thanked every single Hammers fan for their support this season after the biggest moment of his Hammers career so far.
He picked up Hammer of the Year award and said: "I want to thank every single fan who supports West Ham for this award.
"It means a lot to me. It was hard for me at the beginning of the season but now it's going well and I want to do my job for many years to come. We are not finished yet.
"This award that I have received, I am very happy and very proud. I want to keep doing my job for this Club because I came here to do my job and everybody has seen what I can do and that I'm very happy to be here and I want to keep doing it.
"I try to do my best. The gaffer gave me some advice which was to run hard and do my best and I did it. All the players helped me. I love them and they love me – you can hear this!"
The best moment so far? Of course, every time I score a goal is a good moment for me, but to receive these awards is the best moment so far for me.
"I'll do my best in the last four games, I'll give everything and then we're going to go on holiday and come back and do better next season.
"Thank you all for this and I love you all!"