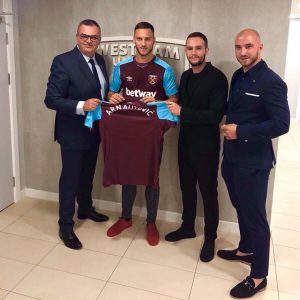 The news that Daniel Arnautovic could be engineering a move for his brother Marko shouldn't come as a surprise to West Ham supporters. We all know the routine!
As a football agent if you only have one client the only way you properly earn big money is to move him on to another club as often as possible, he did the same at Stoke City and he attempted to do the same last Summer but failed.
Of course, the club will say privately he is not for sale at any price and he won't be allowed to leave and Marko will say he loves the club and is happy here but in reality money talks for both sides.
These foreign media reports can be often taken out of context and the translation itself can leave room for interpretation.  Translated to English Arnautovic said:  "I want to compete with the very best but in such matters, I fully trust my brother" 
On its own not very controversial as he already competes with some of the very best in the Premier League but the statement on trusting his brother is the more worrying statement. Time will tell but no reason to write Arnie off as Hammer just yet!