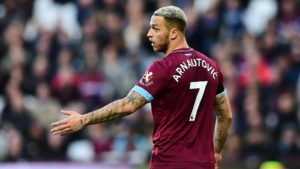 Marko Arnautovic us caught in a Chinese nightmare with at least one report claiming he wanted to return to the Hammers when David Moyes returned for the second time.
The former Hammers striker couldn't have chosen a worse time to force through his move leaving in bitter circumstances to start his new life.
Instead with the global health scare breaking out in China prior to which he had scored scored 10 goals in 16 games for Shanghai SIPG he has been quatantined on several occasion.
The Mail even claimed he wanted a Hammers return under the manager he developed him into a central striker Moysie but could not due to planes being grounded.
It would of course have made little difference given the UK is now engulfed in the problem with ni imminent return to the game in sight.
He is now stuck in isolation in Dubai – described as a halfway house for the club's foreign stars – and in a video message sent to Austrian TV show ZIB 2.
He said: "Take the situation seriously. Stay at home! Only go out of the house for urgent errands – hat's the way to protect yourself and others, especially your grndparents.
"I've already had several quarantines and believe me there are worse things. In this sense stick to the regulations and stay healthy."
ClaretandHugh says: Whatever the circumstances of his departure from the Irons it's hard not to feel some sympathy for Arnie. We all have troubles and difficulties in our lives and he made a decision based on his own circumstances – some of which we will never be aware. His message to the world is a good one and encouraging as the vast majority of the United Kingdom population faces up to the reality of a near imposed quatantine. We have heard the message many times – Stay Home – and for some it will be worse than others given that there are those who face 12 weeks of it. But as he says – there are worse things ….being homeless for example in the most difficult and threatening days possible. Let's all do the right thing.