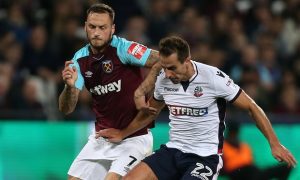 Marko Arnautovic – having played the pivotal role in the victory over Bolton – is more than ready but warned: "It's not only about Harry Kane."
The record signing was in outstanding form last night and commented: "I'm really pleased with this, how we played, how we acted. Of course, we can always improve, we had many chances to score more goals, but I think we played very solid and we can progress like that.
"The first three games of the season was not West Ham, but now we're progressing and getting better.
"Bolton had nothing to lose. They came here and wanted to impress, but I think we handled this perfect. We didn't let them have any chances, we played solid and we showed good personality and this is the most important thing.
"We have done our job and played well, but the game is gone and we have to focus on Saturday."
"I don't know about how the previous matches have gone against Spurs, as this is my first year here, but this is a London derby and we are playing at home, so of course we want to win this game, but it's going to be a tough challenge," he said.
"Tottenham is a very good team, but we're going to see on Saturday. We will recover on Wednesday and then on Thursday and Friday we're going to work hard to see that we can win this game on Saturday."
"It's about the whole team, it's not only about Harry Kane. It's never about one player. We need to stop everyone, but we need to focus on us and not on them.
"We need to play our game and we are playing at home, we have the crowd with us, so let's play on the front foot and we're going to see how it is."