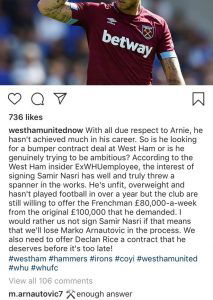 Mark Arnautovic has responded on social media with a two-word answer but I am not sure anyone is any the wiser with his reply.
Instagram user West Ham United Now posted a comment saying: "With all due respect to Arnie, he hasn't achieved much in his career. So is he looking for a bumper contract deal at West Ham or is he genuinely trying to be ambitious? According to the West Ham insider ExWHUemployee, the interest of signing Samir Nasri has well and truly threw a spanner in the works. He's unfit, overweight and hasn't played football in over a year but the club are still willing to offer the Frenchman £80,000-a-week from the original £100,000 that he demanded. I would rather us not sign Samir Nasri if that means that we'll lose Marko Arnautovic in the process. We also need to offer Declan Rice a contract that he deserves before it's too late!" 
Arnie replied with a Cross Hammers emoji and the words "enough answer"
What that means no-one seems to know!  Answers on a postcard please!