---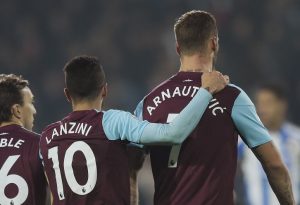 Arsenal at the Emirates and in need of points is a moment when we may be able to decide what David Moyes to is really all about.
Many will believe they already know but I reckon this is something of a defining game as we come to it – if the truth's know – more in hope than expectation.
Will he decide to go with five at the back?  I think so but will he give himself some serious attacking options and demonstrate the desire to really go after Wenger's men WHENEVER the opportunity presents itself.
The team virtually picks itself and I see only the one change – Lanzini for the lethargic Mario – but as we saw on  Monday with Chicharito and Carroll on the bench, there are exciting options and game changers.
Manu has something to prove for me this season as even when fully fit he hasn't torn up trees but the revelation that has been Arthur Masuaku most certainly has on occasions – despite that ban!
So with him, Lanzini and Arnie looking to provide a cutting edge, the question is whether Moyes is set to have a go or sit back and play for the point.
I most certainly hope not. This is a game from which, in reality, points would be a bonus and there's absolutely nothing to lose although a gung ho approach is not what I'm suggesting.
Let's have a go – a real go whenever we can. This is your moment Mr Moyes.
Likely team: Hart; Zaba, Rice, Ogbonna, Cresswell, Masuaku; Fernandes, Noble, Kouyate, Lanzini, Arnautovic