Harrison Ashby has admitted he was delighted to come off the bench against Arsenal on Thursday to make his Premier League debut for the Hammers.
David Moyes brought the right-back on in a tactical switch after the Hammers had been reduced to 10 men following Vlad Coufal's controversial sending off for two yellow cards.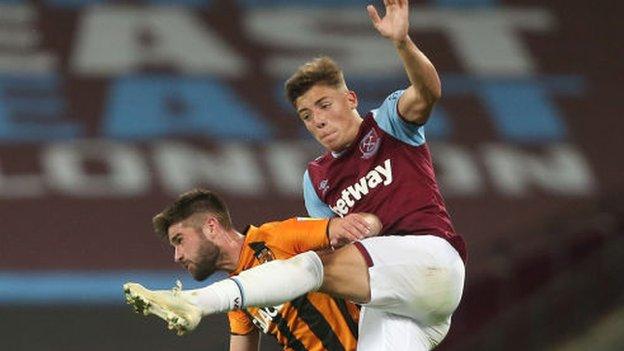 The Gunners picked up all three points thanks to goals from Gabriel Martinelli and Emile Smith Rowe, with the second strike coming after Coufal had been sent off.
Ashby was introduced at 1-0 and, despite the result, he has revealed that he has achieved a dream after working his way onto a Premier League pitch.
Speaking to the club's official website after the game, Ashby said: "It's one of them when you're growing up, you're obviously watching the TV and you think 'I want to be on that pitch one day' and today that dream finally came true. It's a mad thing, especially now fans are back, which is something I wanted to do.
"Even though it's away, we still had all the away fans there after the game giving us attention, so it's mental!"
He added: "I came on when it was one-nil, so obviously for me to come on and try to make an impact was a big thing, and it's away, so I think I held my own. I don't think it was a two-nil game, to be honest, and I don't think the scoreline doesn't really show how well the boys did. As I said, again, it was just a mental feeling to be on the pitch."
He has made real strides in the youth teams in recent months, making 27 appearances for the U23s and 23 for the U18s, while also making his European debut in the dead rubber loss to Dinamo Zagreb.