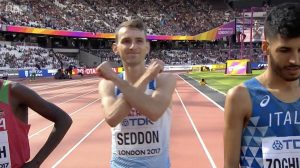 Zak Seddon showed his love for West Ham live on BBC TV over the weekend as he competed in the IAAF World Championships at the London Stadium.
The athlete who runs in the 3000-metre steeplechase did not qualify for the final over the weekend but displayed a crossed Hammers cross sign to millions of viewers watching on TV at the start of his race.
Zak was the European junior 3000m steeplechase champion in 2013 and had previously studied and trained at Florida State University after being approached during the 2011 IAAF World Youth Championships in Lille.
"I was approached by Florida State's sprint coach Ken Harden in person at the championships, and he forwarded my name on to the distance coach after I said I was interested," Zak previously said
"I'd not really considered going to university and was planning to do an apprenticeship in England. But when I was approached by American universities, I looked at what they had to offer regarding my athletics."
When asked by Claret and Hugh to confirm he was a West Ham Zak replied on social media "Always mate ! West Ham till I die !!"