David Moyes insists that Pierre-Emerick Aubameyang's absence from the Arsenal side against the Hammers may not be a huge boost for the Irons.
The Gunners announced on Tuesday that they had decided to strip the Gabon international of the club captaincy after his "latest disciplinary breach", according to BBC Sport.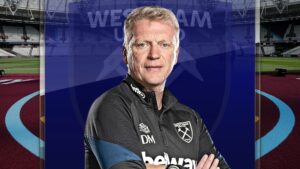 They also confirmed that he will not be playing in Wednesday's game against the Irons, as the two sides lock horns in a huge top-four clash.
Aubameyang has scored just four goals in 14 league games and Moyes does not think that his absence will be all that keenly felt when the two sides do play each other, because of the talent in the Arsenal squad.
He told reporters: "I don't know that I agree with you. I think Arsenal have showed they can play other players. Lacazette, they've got Smith Rowe, Odegaard is scoring at the moment. I think Arsenal will be able to come through it. Sometimes these moments can make you stronger. It depends how you look at it. I still Arsenal as a strong opponent whether Aubameyang is in there or not."
Moyes was also asked if he felt Arsenal were a major threat for the top four, but he feels it is the Hammers who are challenging them, and not the other way around.
He added: "We're the ones who are chasing but if you'd said at the start of the season, you'd have said maybe Arsenal, maybe Tottenham, Leicester. Brighton are having a great season.
"Manchester United you would expect normally to always be in the top four. For us to be there at the moment is a great feeling and we want to keep hold of it as long we can, but we're well aware of the quality of the opposition."