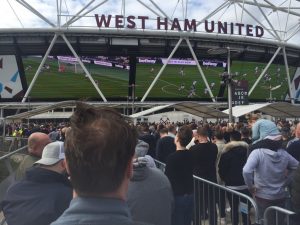 Big queues built-up on the bridges on Saturday due to overcrowding on bridge 5 and later on bridge 1.
Security checks are now carried out on the bridges but ticket holders are encouraged to use the bridge closest to their turnstile.  Bridge 5 became the busiest bridge on Saturday with queues reaching 20 minutes. Bridge 1 in front of the large screens peaked with queues of 10 minutes before kickoff but bridges 1 and 2 were largely empty and had no queues for security checks.
Stadium Operators and the club say that bridges 1 and 2 will always less busy as supporters are naturally drawn the bridges 5 and 1 due to walking routes from the stations.  Bridge 4 is reserved for disabled supporters and away fans.
Supporters should also remember that season tickets and tickets are paired with one turnstile only this season. Many supporters try to enter the stadium through the wrong turnstile each game only to find they are rejected. Stewards often refer them to the ticket office when in fact they could gain entry normally by using the right turnstile.  Many queued at the West Ham ticket office for up to 30 minutes on Saturday only to find they used the wrong turnstile.