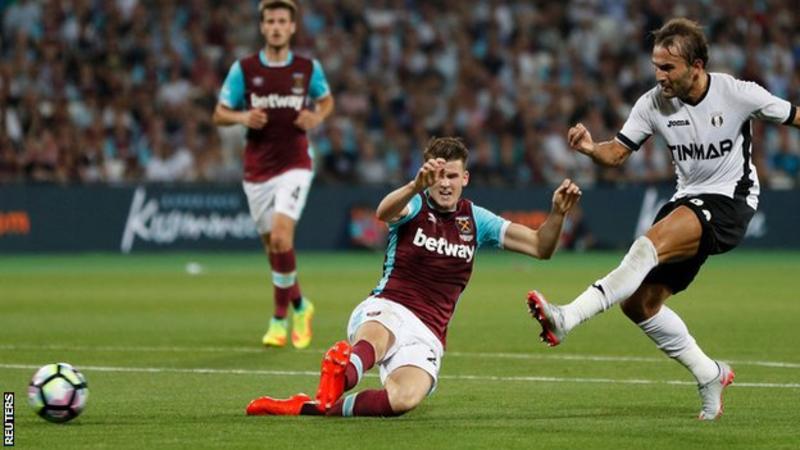 Match verdict
There's been something very wrong all pre-season and now into it. Injuries? Yes but tonight we saw a West Ham United performance entirely unrecognisable from anything we watched in   2015/16.
Without any creative players of consequence on the pitch  (and please please please don't mention the name Tore) we saw two teams who were about as good as each other.
A Romanian team that conceded five at the weekend against a top PL team in their shiny new stadium. Oh dear!
A couple of remarkable saves by the Astra Giurgiu were the difference in the end but apart from substitute Ashley Fletcher we were poor… very poor.
The kid from Manchester was brilliant when he arrived and let's just focus on him for a moment as the one bright spot.
Classy runs, a great effort brilliantly saved and a real focus to the attack. He was outstanding and can't be sent out on loan. He has all the makings of a quality, quality striker.
As for the other newcomers, I see nobody who I would rate any better than Championship or lower level PL level – notably the much hyped Gokhan Tore who was as poor as it gets tonight.
The real issue  was the total lack of midfield penetration. Without Dimi, Manu and to a lesser extent Mark Noble nothing happens. We don't see the killer ball in behind. We can't break teams down and we paid in a very big way.
At the end Slaven sat in the dug-out staring disbelievingly into the middle distance – uncomprehending and lost. A bit like the rest of us.
I guess if we are going to have injuries and a bad run now is the time to have them but there was a shocking lack of quality out there tonight. And quite what Simone Zaza would have made of  it all can only be imagined.
This was supposed to be our step to the next level and what gets said in the next board meeting is not something I want to even think about right now.
i