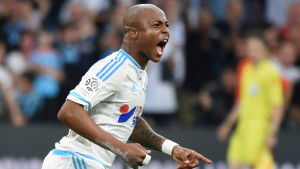 According to the Head of Sport for the Daily Mail and West Ham fan Lee Clayton, Andre Ayew and West Ham are edging closer to completion of a deal.
Ayew, will be a free agent at the end of June when he comes to the close of his Olympique de Marseille contract, he has attracted considerable interest and is said to have several offers to choose from Premier League and European teams.
L'OM president Vincent Labrune says he wishes Ayew well in the future."We can't keep Ayew. He is a very important player for OM but we can't offer him the kind of money English clubs can offer," he explained.
"The French financial system is complicated and we can't offer him an equivalent salary to what he can earn in England. And equally, we can't ask Ayew, who we love and is an icon of our team, to accept a lower salary. That makes no sense so unfortunately he is going to quit the club and we hope he has the great career that he deserves in England or somewhere else."
Ayew has scored 13 goals for his club this season and celebrated his final days with Marseille by being named the best African player in Ligue 1.
Ayew was last linked in the January transfer window when it was said West Ham would use their close relationship with Marseille wheeler and dealer Willie McKay will help land Andre Ayew. Back in 2012 when was  first linked with the club Ayew told Sky Sports: "We are always interested playing one day abroad, there is no official offer from West Ham but if such a possibility could arrive, we will talk about with our advisers. West Ham is an excellent team."