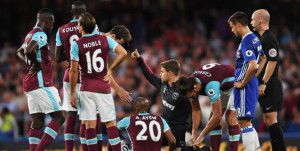 West Ham have confirmed media reports in France that Andre Ayew has been receiving specialist treatment in France at his former club Marseille.
Ayew, who joined West Ham from Swansea for a club record transfer fee of £20.5m last month, was withdrawn 35 minutes into his Hammers' debut against Chelsea after pulling up with a thigh problem while attempting to track back.
West Ham say it's too early to put a time frame on his return to first team action, but he won't need an operation and a ball will soon be introduced to his rehabilitation sessions. The decision to let Ayew travel to France for treatment was made so that he could be closer to home while Marseille, where he has been spending 25 per cent of his time, also have equipment to benefit his recovery.
Ayew was reportedly a summer target for Marseille but West Ham were able to offer Swansea a more compelling deal and the player himself a better wage package.