It appears we aren't  about to put out of our misery anytime soon regarding Carlo Bacca. ClaretandHugh understands there is no specific deadline and the Hammers are happy to pursue other options while Bacca comes to his final decision on his move away from Milan.
Reports in Italy claimed Carlos Bacca thanked David Sullivan for his offer yesterday but informed him that he wishes to play in the Champions League.
We understand, however, that this is creative writing by Italian journalists working for Gazzetta.It and simply not true and despite the chairman's son saying we will find out in 48 hours little has changed.
The story continues receiving major attention in Italy. Bacca was shown enjoying a meal in a restaurant with fellow Colombian Cristian Zapata  live on Italian TV last night. The TV channel claimed AC Milan have told Carlos Bacca he needs to leave the club soon.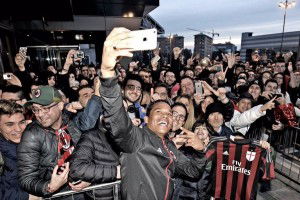 Meanwhile Sky Italia say Bacca has no intention of joining West Ham and he and his agent are angling for a move French club PSG.
The French media have been quick to point out that PSG has never tried to recruit the player of 29 years of age before. More importantly, they have stated that Bacca does not have a European passport and the quota of non-EU players is already filled in PSG with Thiago Silva, David Luiz, Maxwell and Lucas.
Therefore one of those would need to leave for him to join the French champions. Both he and West Ham appear to remain in limbo while many West Ham fans think we should show some respect by throwing in the towel now before we look desperate.