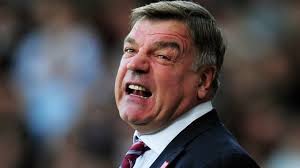 Sam Allardyce was understandably aggrieved that Alex Song's early strike was ruled out for offside!
The former Arsenal man smashed a low volley into the bottom corner of the net from 20 yards but  Diafra Sakho was penalised for standing in an offside position in front of goal, despite not touching the ball.
Said Allardyce: "The biggest shock was us not being in front at half timeWe scored a perfectly good goal that was disallowed.
"It certainly should not have been disallowed on the basis of what Mike Riley and his staff tell us. The officials clearly got it horribly wrong and to say we are bitterly disappointed and frustrated is an understatement. Baffled is more the feeling.
"They said the attacker was in the eye line of the goalkeeper. Complete nonsense. When officials make these decisions they are supposed to have a clear view. It is impossible for the assistant referee to say that. They are wrong, Sakho is not in the eye line of the goalkeeper.
"Neil Swarbrick could only guess he might be in front of the goal. keeper."