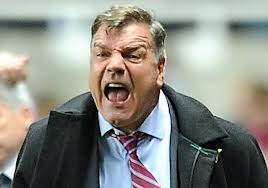 West Ham manager Sam Allardyce was left "baffled" by the decision which handed Everton their opening goal in the 2-1 win at Goodison Park.

Referee Mark Clattenburg allowed a clearly offside goal from Romelu Lukaku's to stand and the Hammers boss will take the matter up with officials' chief Mike Riley next week.

Allardyce said: "A little bit of it was our fault but that decision baffled me so we have to be frustrated. The first shot was blocked by Winston Reid and it falls to Lukaku who is two yards offside. For me there will be some way forward next week for an explanation.

"I have had an explanation from the referee but I won't discuss that publicly, I'll discuss it privately with the PGMOL (Professional Game Match Officials Limited) next week."

James McCarthy was guilty of some challenges which caused an angry confrontation between the players after going over the top on Morgan Amalfitano . Steven Naismith too was involved in some meaty challenges and Allardyce,  asked Clattenburg for greater protection.

He said: "I think they were yellow cards. Naismith's challenge on Mark Noble was probably the worst of all and because there wasn't a furore it went unnoticed. Noble ended up coming up off injured because of that.

"They showed a certain degree of physicality and we had to ask the referee to protect us and I don't think he did that too well.

"We have been very good this year at converting chances with very good delivery in the final third but our finishing was not good enough and because of that we have ended up losing and a referee's decision has contributed to it."

Allardyce was also unhappy about the winner, which saw Clattenburg make the right choice in playing advantage to allow Leon Osman to score on his 400th appearance after Mauro Zarate had equalised four minutes after coming off the bench.

"One punt up the middle was a hugely disappointing way to concede," said the West Ham boss.