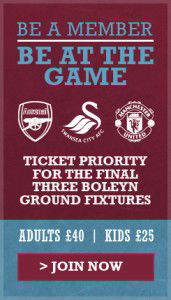 West Ham has revealed they will hold a ballot process for the last three home games to played at the Boleyn Ground – but you need to be an Academy member to be eligible to apply and a ticket could cost you up to £126.50!
Fifth-placed West Ham play third-placed Arsenal on 9th April at 12.45pm with what appears likely to be the penultimate game against Swansea City on Saturday 7th May 3pm. The final game is widely expected to be played either Tuesday 10th or Wednesday 11th May evening against Manchester United, subject to Premier League final approval.
whufc.com announced yesterday: "West Ham United are pleased to announce details of how Academy Members will be able to apply for tickets for our final three Barclays Premier League games at the Boleyn Ground."
 
"There has been overwhelming demand for tickets in this historic season for the Hammers, with the upcoming fixture for Crystal Palace selling out to Academy Members, several days before tickets were due to go on general sale."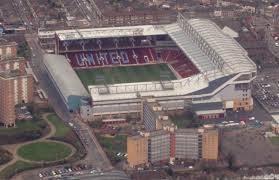 "Due to the expected rush to purchase tickets for any of our final three Boleyn Ground fixtures, the Club is opening a ballot process exclusively for Academy Members, to fairly allocate tickets for the visits of Arsenal, Swansea City and Manchester United."
 
"The first ballot for the Arsenal fixture is open now, and will close at 5pm Tuesday 22 March. The lead client on successful applications will be notified by email."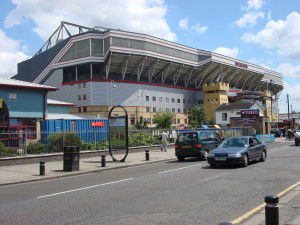 "If you are an existing Academy Member, you will receive an email with the link to the ballot form. Or alternatively you can download one here."
 
"Each fixture will undergo a separate ballot process, with a different form for all three games. The forms can be accessed on whufc.com and will be emailed to Academy Members when each future ballot opens."
 
Supporters are invited to become adult Academy Members for £40 if they are not members already in addition to the £85 for Band 1 adult ticket plus a £1.50 booking fee for the Arsenal or Manchester United matches. At £126.50 per ticket it would become the most expensive tickets in the Premier League!