By Harry Sherlock
of Goal.com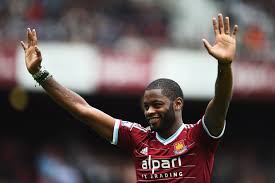 Barcelona's transfer embargo has been used by some to suggest that West Ham maybe in a tricky position as they bid to clinch the permanent transfer of Alex Song!
Barca's suspension – after Fifa found them guilty of breaching transfer rules relating to the acquisitions of players under the age of 18 -means that they can't sign another player in 2015.
And that immediately raises the question as to whether the Catalan giants will want to let Alex Song leave the club.
We want to sign him long term of coursd and there is reported interest from Liverpool along with some in Turkey – thus a bidding war may be in prospect.
David Sullivan puts it simply: "Could he [Song] leave at the end of the season? Yes he could – loan players always can. Barcelona paid £15m for him. You have to judge him over the season and I think Song has to judge West Ham over the season.
Barca's transfer predicament is unlikely to have any bearing on whether Song stays or leaves the Nou Camp for all the reports are that his face has never quite fitted at the club
Under Gerardo Martino, Song started against Rayo Vallecano in 2013 and Barcelona subsequently lost the possession battle for the first time in 317 competitive games. Song became the scapegoat.
In a squad also featuring the likes of Xavi, Andres Iniesta and Lionel Messi, the Cameroon international failed to settle as Barca embarked on a period of unprecedented domestic and European dominance.
It is hardly Song's fault; a highly capable midfielder, with an excellent range of passing, he arrived at the club at a time when Barcelona were, unquestionably, the best team on the planet.
They regressed slightly under Martino and remain on the slide and even Messi is believed to be unsettled, prompting talk of a Chelsea move.
Yet they simply do not need Song. Despite the transfer embargo, Barcelona's La Masia facility remains one of the finest production lines in world football and they continue to churn out world-class prospects.
Sergi Roberto is just 22 and is widely regarded as one of the best young midfielders in Europe, while 21-year-old Rafinha – brother of Bayern Munich's Thiago Alcantara – has been heavily linked with a move to England.
Of Spain's current Under-21 squad, five players come from Barca – they have a remarkable depth of talent and thus, Song has become expendable.
The Irons; main problem is that Barca are in a magnificent negotiating position because of their transfer ban and are in a position to demand whatever they wish from any interested parties.
Song signed a five-year contract upon his arrival at the club in 2012 and, as is customary in Spain, a release clause was included. It stands at £63 million.
That is designed to put off interested clubs but it can complicate matters when a player becomes surplus to requirements. Reports have suggested that Barca have set an asking price of £11.5m for the player and they are not in a position where they need to budge.
It  comes down to whether we can meet the £11.5 million or whether intrest from elsewhere will push it higher when there are the wages to consider as well.
The transfer ban, however, looks to be a side issue!