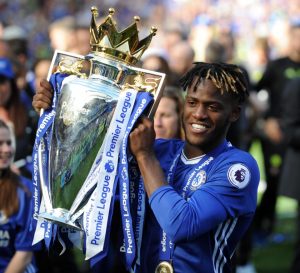 Chelsea striker Michy Batshuayi slammed the interview claimed by Het Niuwsblad.
The article quoted Batshuayi as saying: "Honestly, I'm not trying to think too much [about my future]. It will be up to the board and the coach to decide. I'm the player, I go where Chelsea send me."
In response to the article, Batshuayi wrote on Twitter: "Sorry but I never had this interview lol I've been chillin on a jet ski for 3 days".
However, Het Niuwsblad journalist Bart Lagae has fired back and claims he spoke with Michy Batshuayi before the FA Cup-final.  He says audio tapes exist of this and has asked why has Michy Batshuayi claimed he didn't speak to Het Niuwsblad?
Batshuayi followed up by adding "Lol they are

already had a dispute with them couple months ago.. sorry fam but can't be trusted!"
Batshuayi is obviously keen to stay at Chelsea and would like to decide his own future.