West Ham 1 Manchester City 3
By Hughie Southon
This was one of the finest premier League games those who watched will be fortunate enough to have seen and the Hammers more than played their part in it.
And the squad will rightly feel disappointed at a score line which simply didn't reflect how the battling squad had played.
They had opened the scoring through James Ward-Prowse, seen it equalised 43 seconds into the second half and finally beaten by strikes from Bernardo Silva (76′minutes) and Erling Haaland (86′minutes).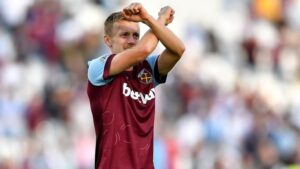 They are the basics but the Hammers battled every inch of the way although they were grateful to Areola – again in superb form – for several fine saves and a hit upright.
However, the Irons created their own chances and Antonio could consider himself unfortunate when breaking away and finding Ederson saving at his feet in the second half.
The Hammers were as good as most of us have ever seen them in recent years though with JWP in great form along with Paqueta and Alvarez.
Kudus was sent on with Benrahma after 60 odd minutes and looked a real handful whenever he was on the ball.
Fair play to Moyes who decided to attack the game at 1-1 by sending those two on and he will be proud of the way the boys performed against the best club team in the world.
I certainly was as I imagine most Hammers supporters were too!