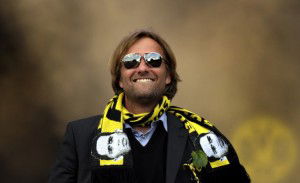 Jurgen Klopp will be the next Coach of Napoli after Rafa Benitez goes to Real Madrid, claims Franz Beckenbauer.
"Next season Klopp will be training in the South of Italy, at Napoli," German legend Beckenbauer told Sky Sport Deutschland.
The former Borussia Dortmund manager had been linked to West Ham, Liverpool and Napoli but Beckenbauer says he has agreed to replace Rafa Benitez if Napoli snatch third place from Lazio this evening which would put them in the preliminary round of the Champions League.