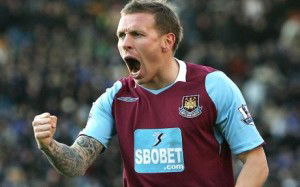 Former Hammer Craig Bellamy has hit back at the sneers and arrogance of those taking a pop at the Hammers.
The knockers have been quick to dismiss any chances of the team playing "the West Ham Way" under David Moyes but Bellamy – despite his two injury-plagued seasons at the club -understands the way we are better than them.
And he made things very clear during a recent edition of Sky Sport 'The Debate' Show when he superbly gave sniffy pundits a lesson in what the club and its supporters is about.
He told Geoff Shreeves – who had questioned the club's ethos:" Look West Ham, like a lot of football clubs, expect you to work hard, demand their players to work hard.
"But also – and what took me with West Ham supporters – they see the game. Don't be fooled thinking you can go around kicking people and not take responsibility on the ball because they'll still dig you out as well.
"They expect you to show for the ball. Do you know when it ain't going well and if you show courage for them, if you're willing to get on it when they're on your back and you're willing to brave up and show responsibility, take the ball, they'll get behind you.
"Even if you give it away they'll say "Do you know what (at least he's trying)."
"What they will see is players hiding and they're the ones they will dig out. It's a good club with good fans."