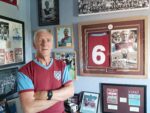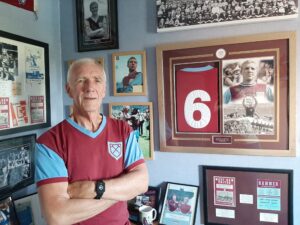 ClaretandHugh's top blogger Allen Cummings has been giving his personal top 10 in an all time greatest Hammers list- Today he arrives at the halfway mark and reveals No 5 on his list
No. 5 – ALAN DEVONSHIRE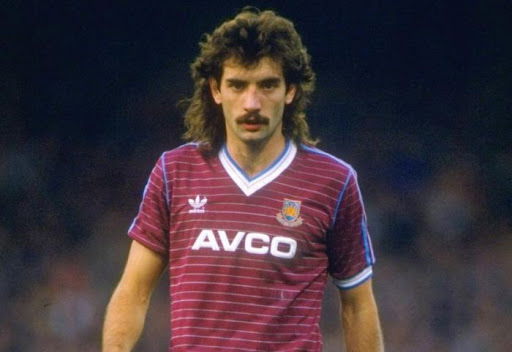 Built more like a table tennis player than a footballer, Alan Devonshire was a wisp of a player who was a wizard on the football field. He wasa bargain buy at just £5000 from non-league Southall, where he combined football with driving a fork lift truck at the giant Hoover factory.
Ron Greenwood certainly 'cleaned-up' when he took Dev to Upton Park and watched him develop into a West Ham legend. Devonshire's trade mark surging runs, punctured with mesmerising shimmys, to the left or the right, had defenders bamboozled and West Ham fans besotted. Regularly riding crunching tackles designed to flatten him – they only served to inspire him even more. He merely bounced off his assailants and carried on.
 Alan's partnership with Trevor Brooking in the late 1970's and early 80's was like watching poetry in motion at times. Devonshire even overcame a horrific injury at the beginning of 1984, snapping three ligaments in his right knee, which would have ended many a career there and then. But 19 months later Dev was back to play a vital role in that 1985-86 season, when we went so close to carrying off the Division One title.
 It is one of football's great travesties that Alan Devonshire only appeared a meagre eight times in a full England shirt. His talent surely deserved far more. Dev made a total of 400 appearances for West Ham in his 14 year career at the club. I think it's fair to say we more than got our money's worth.
P.S: Happy Birthday for the 13th Devo