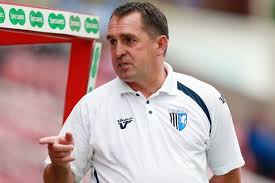 It seems that both Big Fat Sam and 'Mad Dog' Martin Allen are Diego Costa fans and are spending time urging Manuel Pellegrini to sign the former Chelsea striker!
Striker in more ways than one because he actually went on strike soon after joining Atletico Madrid following his trouble torn last season at Chelsea.
And in April he found himself suspended for eight games after insulting a referee sent off for dissent in the 28th minute.
He shouted at the official, grabbed his arm, and reportedly used a Spanish phrase that referred to defecating on his "prostitute mother".
Nice! So there's no  problem swapping one difficult individual for another in the old time world of the Irons duo who, to put it politely, seem to have little discernment of what is acceptable in Manuel Pellegrini's world.
BFS is quite happy to admit he would have swapped Arnautovic for Costa which is probably why many are relieved he's gone and we now have a top manager in place where cupping of ears is also an alien prospect!
Allardyce told TalkSport: Costa would "thrive being a big fish in a smaller pond as well".
"I think it would be a perfect fit. I'd love to see him back in the Premier League and would love to see him at West Ham.
Mad Dog added on the  West Ham Fan Show on Love Sport Radio, as transcribed by West Ham World. : "If I was them at West Ham, I'd go for Diego Costa at Atlético Madrid and get him back to London and let that warrior out into the London Stadium and let him lead the line.
"I'd love him to go to West Ham. He's always going to be in trouble, but even if it's a good year from him, yeah I'd have him back."