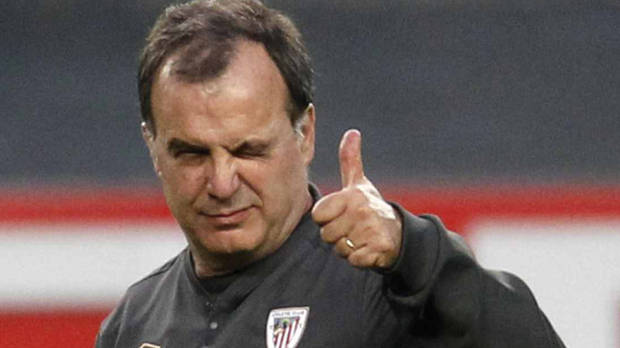 Argentinian Marcelo Bielsa may be something of a mystery man to many Hammers fans. 
The Marseilles boss has been a runner as next boss since it began to look likely  Upton Park may have a new man at the helm next season.
So here in a special feature we look at the Marseilles boss – a man of whom Pep Guardiola said three years ago: "He's the best manager in world football."
By Staff Reporter
Marcelo Bielsa isn't your typical manager. Intense and fiercely intelligent, Bielsa has earned the nickname 'El Loco' throughout his career, but doesn't fit the usual PL stereotype.
In fact, it could be argued that he is – for example – Sam Allardyce's very antithesis. A burly, stocky defender, Bielsa retired at the age of 25 after playing for Newell's Old Boys, Instituto and Argentino de Rosario, and subsequently qualified as a PE teacher.
Shortly after, he became Newell's manager and, so, in 1990, his managerial odyssey began.
Known by many names, Bielsa is a very 'hipster' coach. Take a stroll into any press room in any country in the world and you can guarantee that a style invoking a "high press" will be referred to as 'Bielsa-inspired'. He is meticulous. He is obsessive. And he has a ferocious will to win.
While at Athletic Bilbao, Bielsa famously drenched certain areas of the pitch in order to prevent Barcelona from playing their tiki-taka quite so effectively. Yet he employs a stunning tactical rigidity.
Whilst at Bilbao, he simply refused to change his system even when Javi Martinez was injured. A keen advocate of a three-man defence – involving a 'free' defender, who is able to drop into the heart of the backline depending on how many attackers the opposition have on the pitch – he simply drafted in a less able replacement instead of refining his gameplan.
Yet he is incredibly attacking. While with the Chile national team, Bielsa devised a 3-3-1-3 system, which demanded excellence and unwavering discipline from his players. Alexis Sanchez was the jewel in his particular crown there, as Chile attacked with a swarm-like philosophy, with and without the ball.
He has been known to employ spies to peek on opposition tactics; has been spotted by his players trawling through the local countryside seeking out undiscovered talent that may have escaped the attention of his usual scouting networks, and has also been known to draw on players' boots during training sessions in an attempt to show them exactly how the ball should be played.
West Ham will have never seen anything quite like it.
He plans for every eventuality, drafts every potential substitution and immerses himself completely in match preparation. Nothing is left to chance. If something goes wrong, the chances are that the players simply weren't carrying out his instructions properly.
Bayern Munich boss Pep Guardiola called him "the best manager in the world" in 2012. High praise, but well earned. He has not won a domestic trophy since 1998 but he is a man with a clear philosophy. Whereas others – Louis van Gaal is one – merely speak of their "philosophies", Bielsa implements his and gets results.
Of course, it will mean an alteration to the way things are done in east London if he is to get the job. It cannot be forgotten that Marseille are third in Ligue 1 under Bielsa's guidance and sit just two points behind leaders Paris Saint-Germain – he may yet win the French title before heading to England.
But there will be adjustments. If he is to implement his 3-3-1-3 system, players will be shifted; the likes of James Collins, Joey O'Brien, Kevin Nolan, Carlton Cole and, just perhaps, Andy Carroll may well become obsolete.
Collins and O'Brien simply won't cut the mustard, while Nolan is a mere water-carrier – a midfielder constantly scurrying around looking to regain the possession he has lost. Cole isn't good enough and, well, Carroll simply isn't as dynamic as either Diafra Sakho or Enner Valencia.
The latter two would thrive under the Argentine – their pacey, skilful styles meshing perfectly with Bielsa's versatility-inspired formation.
Somewhat ironically, Alex Song would fit perfectly into the team, as the midfield three play high but without the normal brief to attack. The j
ob is to win the ball and recycle possession quickly – something Song has had to do at the very highest level with both Arsenal and Barcelona. Bielsa will want to keep him.
But don't expect instant results. Bielsa's methods often take time to adjust to, and results tend not to set the world alight within weeks of his appointment, while he has to work the players to the bone as he attempts to drum in his modus operandi.
Training sessions are hard, and he is known to blow a gasket even in the simplest drills if things do not go just as he had planned. But once it clicks – and it always does – then quite sparkling football tends to follow.
See Athletic Bilbao's Europa League journey in 2012 for evidence; the La Liga side reached the final – though they lost to Atletico Madrid – and outclassed Manchester United, both at home and away, en route.
West Ham fans often talk of 'The West Ham Way'. The 'Bielsa Way' may not be too far off.