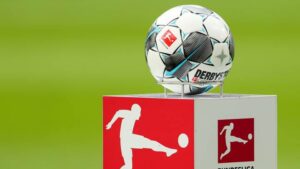 The Bundesliga could be the first football league to return to action, with a German minister suggesting that talks have begun over starting up again as early as May 9th.
Competitive football could to the country within a couple of weeks, although behind closed doors after German clubs recommenced training in early April.
In a statement, German Minister Markus Soder confirmed they have been in talks with the German FA over the return to football.
"The prerequisite is that there is a well-thought-out concept," Soder said.
"What the DFL have presented shows that protective measures are in place. I could imagine that we can go back to the state of games behind closed doors.
"It is a tightrope walk. We now have to be careful not to overdo it or be frivolous. Games with audience participation are completely unthinkable. Games behind closed doors are also a tightrope walk.
"It is conceivable that we might be able to play a ghost round [behind closed doors] at the earliest from May 9th. It is clear: a weekend with football is much more bearable than a weekend without football."
The German top tier stopped on March 13th but clubs were allowed to return to training on 6th April with restrictions in place.  They can only train in groups of five and with social distancing still in place.