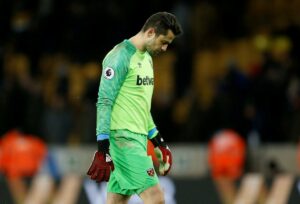 It takes a big man to say sorry and they come no bigger than Lukasz Fabianksi
The West Ham keeper was devasted that his blunders cost the Hammers the game against Liverpool.
He told the press "My mistake basically cost the team the three points, we did really well, we actually pushed Liverpool to the edge and I think if it was not for my mistake then we could have even won. I am really sorry that I let the team down. I held my hands up [in the dressing room] and I am really sorry for my efforts. I am the reason why we lost."
"I think the first goal and the second goal I should have done a lot better, because I was set, I was ready to react and my hands were there. For some reason I just misjudged it or maybe I was a bit relaxed in those situations, thinking that it was already caught or saved. It was me being a bit too relaxed, not being aggressive with making saves.
"I will do my best [to make up for it], work hard, make sure I cut out all the mistakes and try to be an important part of the season. We are still in a bad position and I will just make sure I am more focused and more reliable to help the team in the next games."
Claret and Hugh say:
It's shows the character of the great man that he feels he needs to publicly apologise to his teammates and the supporters, I not sure every professional footballer would be so quick to do so. If you make a mistake as a midfielder or a forward it often results in a misplaced pass or missed goal scoring oppotunity. If a goalkeeper makes a mistake it invariably results in conceding a goal. As Mark Noble said Fabianski has earned the team enough points earlier this season to forgive for dropping points on his occasion. We are sure he will be determined to make up for it in the remaining eleven games to help guide West Ham to Premier League survival.