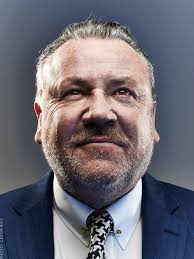 Ray Winstone doesn't mess about and has never been known to mix one single word.
And he made sure it would be business as normal when questioned about Dimitri Payet when attending the premiere of Iron Men in the week.
Speaking to the Mirror he said: : "It just shows how easily footballers can be upset.
"When you box, you are one, you haven't got to rely on anyone else, but when someone in the dressing room is upsetting everyone else, well, the proof's in the pudding.
"So, f*** him, he's gone."
Big Ray is delighted to see the lads playing for each other now and says: "I think this squad are starting to knit together. We got bashed up against Man City, but we bounced back.
"We've got Chelsea on Monday, so let's see how we do."
And on which player he would like to play on film he said: "He's a bit shorter than me, but Mark Noble, I suppose.He's been the epitome of what West Ham's about and he's been there for a long, long while.
"I couldn't play the Geordie (Andy Carroll) because I can't do the accent!"