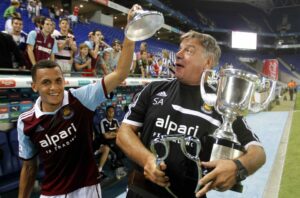 Former West Ham manager Sam Allardyce has spoken candidly about Ravel Morrison time as a Hammer:
Big Sam told
TalkSport
listners 
"I think the long and short of it was, as hard as we tried to control him he needed deeper and more psychological help than we could ever possibly give him if he was to able to control his focus and concentration. Ravel was unfortunately left with a disorder which would mean he would forget almost immediately after he left the training ground what he was supposed to do the next day
"So to try and overcome that we rang him in the morning to wake him up, we'd have somebody to pick him up and bring him into the training ground. These are the measures we took as his talent was so good. We tried to get him the help he needed, but unfortunately, he didn't want the help and that was the big problem."He continued: "There was a spell of about three months or so where he really towed the line.  I don't know if you'll remember this, but he scored this unbelievable goal away at Tottenham where he ran from his own half and chipped the goalkeeper. That really put Ravel on the map.
"But we got to Christmas Day and we were all sat on the coach ready to travel to the hotel for our Boxing Day game and Ravel had posted a picture of him and his family in Manchester enjoying Christmas dinner on social media.
"That was probably the end of it at that point. He just couldn't understand that he had to keep playing through Christmas, so he wanted to go home and have Christmas dinner with his family.
"I don't think it's his fault really, because deep down there are so many psychological problems that need to be sorted and that talent will never come to fruition if those things aren't properly addressed."
Ravel joined West Ham in January 2012 after Sir Alex Ferguson grew weary of attitude. Morrison made just 12 league starts for West Ham and 6 sub appearances scoring 3 goals. he made 5 Cup starts and one sub scoring another two goals. He made 25 starts for Birmingham while on loan from West Ham, 14 for QPR and just 1 for Cardiff.
He cost West Ham an initial £650,000 transfer fee from Manchester United but that climbed to £1m after £25,000 per first appearance clause was fulfilled. He signed a three and a half year contract on the 31st January 2012 earning him £2.7m in wages some of which was offset by loaning him out.
He later joined Lazio on a free transfer where he failed to make an impact, he returned to England signing for Sheffield United and has since been loaned out to Middlesborough.