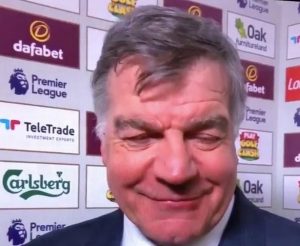 Sam Allardyce has denied he was smirking at Everton fans after his team's latest defeat last weekend claiming he can't control his facial expressions. It comes days after he compared expectations of Everton fans against West Ham fans which landed him in hot water.
He was criticised for appearing to compare Everton to Newcastle and West Ham in terms of size and history, and then provoked outrage in some quarters when asked about the response of fans, in his post-match TV interview at Burnley.
"Everton is far greater than Newcastle and West Ham, but every fan has great demands and when there are big crowds the demand is bigger. That's what it's all about," said Allardyce.
"For me Everton is completely different to Newcastle or West Ham but it was just a comparison. It wasn't anything other than that. The ambition at Everton is different to Newcastle and different to West Ham, but if you don't play as well as they expect you to play and don't entertain they show their disapproval and that's what you have to deal with as a manager."