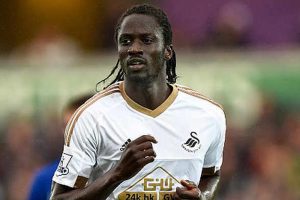 Former West Ham Manager Sam Allardyce has revealed a bizarre transfer meeting when he was West Ham manager.
Speaking to the Alan Brazil Sports Breakfast on Talksport radio he said  on Eder "We arranged to meet up in a hotel after the game … with the president of the club and the secretary of the club and the chief executive of the club, the player came along, the English agent, myself and the chief scout sorted out the loan deal.
"The lad came with his bag to travel with us the day after and I got a phone call from Mick Walsh, who lives in Portugal, and he said 'Have you got Eder there?'
"I said 'Yea' and he said 'Well are you dealing with his agent?' and I said 'Yea he's here' and he said 'No that's not the right agent Sam'. I said 'Walshy it all seems like it's done, it all seems ok'.
"So we sat around the table and all of a sudden we see Eder look up and his eyes started staring so we turn around and there's three big guys at the door just waving to him, do you know what I mean?
"So Eder goes to meet these guys and that was the last we saw of him, he'd gone.
"The owner of the club was going mad, we stayed up until about 3am, we called the police, we called everybody and that was it, we got up the next day with the agent, traveled all the way back to England and we never saw hide nor hair of him again until he turned up at Swansea. I was just relieved he was ok."