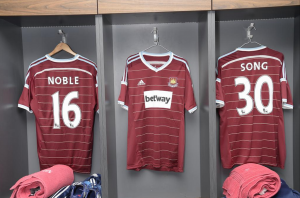 Claret and Hugh can reveal that West Ham United have landed the biggest financial sponsorship deal in it's 120 year history.
Betway have been announced as principle sponsors of West Ham this morning in a long term deal lasting three and a half years.
The sponsorship deal is worth just over £20m over three and a half years making each season worth around £5.75m. This dwarfs the previous deal with Alpari worth £9m  deal over three years. It understood that Chairman David Sullivan, along with Managing Director Angus Kinear and Commercial Director Felicity Croft trashed out the record deal with Betway.
The Betway logo will be worn on Hammers shirts this Sunday against Manchester United and the West stand will be renamed the Betway stand as part of the deal.