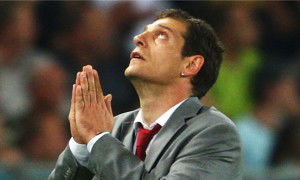 Slaven Bilic has admitted he has a "big" problem and is living with it 24/7.
The manager is a very worried man and said after yesterday's game at the Hawthorns: "If we continue to defend like this as a team we can't win a Premier League game. The problem is big.
"We can't say it is unlucky with some situations, or improve individual mistakes and we are going to be all right. It happens so many times since the start of the season – too many times.
"We are weak and we have a problem. I don't want us to react, I want us to act. It is no time to panic but we have to act.
"We need to be aware of the situation and I don't want to sound pessimistic, but I am and I have to live with this 24/7."
The Hammers defenders were savaged on Match of the Day by former England and Newcastle striker Alan Shearer who said our defence was "a horror show".
He snapped: : "I know they have injuries and two new full-backs but this is not a problem that has happened this season. It started at the end of last season. They have conceded at least two goals in 12 of their last 15 Premier League games.
"It was a horror show, so bad it was like watching an under-10s team. It was laughable and extraordinary.
"I have not seen defending like that for a long time. It was so bad it was unbelievable."