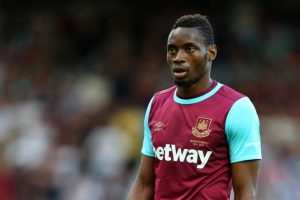 Slaven Bilic believes he may be able to name his dream team for the match at Burnley tomorrow (Sat).
The Hammers boss is as close as it gets to having a fully fit squad and said: "When, during last summer, we sat down and made our plans for this season, we had in our minds an ideal shape, squad and team for the coming season.
Up to now, because of various reasons, we have never had the opportunity of picking that preferred squad and team. But on Saturday at Burnley, barring last-minute and unforeseen problems, we will have that rare luxury.
Okay, there are players like Pedro Obiang and Edimilson Fernandes, who have only been back with us this week, but at least they are injury-free.
And there was a special mention for Diafra Sakho who Bilic said will will be in the squad for Turf Moor.
The manager said: "He is in good shape, he is in a good state of mind and he is pain-free. Yes, he could have moved on during the summer — and he wanted to do that — but it didn't happen and, since then, he has reacted well.
"I have a good relationship with him. He is open and honest and I have to 100 per cent ignore all the history and judge him by what he does on the pitch and in training.
I talk to him a little, but I decided to ignore what might happen in the future. With him, I go day by day, week to week."