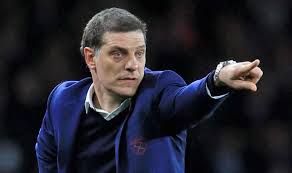 Slaven Bilic refused to get involved in excuse making after a quite dreadful defeat at Newcastle.
And at least that was a relief after Mark Noble had embarrassed himself and the club with his awful attempts to do so.
Bilic took everything on the chin and whilst it won't be enough for most of us at least his post match verdict was delivered with brutal honesty.
And in circumstances such as these that is by far the best way to go – take note Mark and any other players who are trotted out to tell us all will soon be well during the course of the next few days.
Bilic told the official site:  "It's very disappointing and it's very frustrating, the way we played. They were quicker, better in possession, better to the second ball and they punished our mistakes. It simply wasn't good enough.
"The first two goals, we gave them the ball in dangerous areas, but we still have to react. They were individual mistakes but still you can make it up and it doesn't have to be a goal, but we helped them.
"We didn't look good, we didn't play good and they were simply the better side. They deserved those goals, because they pressed high up the pitch and forced those mistakes. We gave the ball away easily but they were on top of us and put the balls in good areas.
"They were more powerful than us, more physical and it wasn't good."
"Last week was a different defeat to this week. I was mostly talking about positives last week. This time we have to admit that they were simply better in everything, especially determination, wanting to win the second balls.
"We can talk about excuses, but after this kind of defeat and performance, I don't want to. We can't talk about the midweek game and a reason why we didn't look fresh and fit enough today.
"After 2-0, it always gives the opponent an extra strength and power. Of course it's hard, then."
"Based on today, yes [we need to work on everything]. We didn't look good with the ball, we didn't look good without the ball."