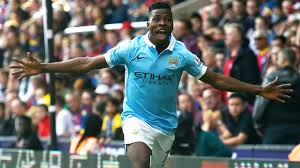 Who remembers the name Kelechi Iheanacho?
For those with shorter memories he was the young man West Ham were supposedly set to sign as their main striker way back in the summer.
Without most of us having seen him or heard about him, his 22 goals for Manchester City over two seasons made him a 'must have' player for the Irons and all hell broke loose when Slaven Bilic put the block on it.
The manager's argument was that at City – surrounded by good players – he may look a better player than was actually the case and instead he waited for another to come along with a proven pedigree in Chicharito.
We got him for £16 million whilst Iheanacho was priced up at £25m!
Okay, we know the Chicharito thing hasn't worked out too well thus far but that's for another discussion which has probably been held anyway.
Back to the point and watching Leicester City last night against West Brom seemed to suggest that on Iheanacho at least Bilic had got it right.
The boy has played six games in a blue shirt, failing to find the net as the Foxes have gathered just three points from three draws in their last six games.
That also tells a tale of second season syndrome suffered by managers such as Craig Shakespeare and our own boss but time is on their side at least.
I dread to think what would have been happening on the forums had we bought Iheanacho and he'd experienced the same sort of start with us as he has in the east midlands.
And remember there was a buy back clause involved from Manchester City. Thankfully, on what we saw last night which included a booking, he was the one that got away.
All that remains now is for Bilic to find a way of getting the very best out of  Chicharito !
COYI