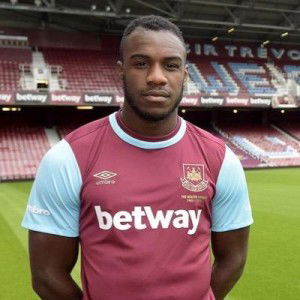 West Ham winger Michail Antonio should be considered for an England call-up, according to Slaven Bilic.
Roy Hodgson will announce his provisional squad for the European Championship on Monday at 11am and Bilic feels the England manager should contemplate selecting Antonio.
"He's quality, the way he is playing, the big impact that he's had on our game and also on the Premier League," the West Ham manager said.
 "I'm saying as his club manager he's scored some goals, he's made some assists, he's defending really well.Of course Roy Hodgson has got a good team, he's not struggling for names. England qualified with 10 out of 10 wins so it's very hard for some players to break in – somebody has got to get injured or somebody has to lose a place in his club long term."
"But if you ask me, does he have enough to offer? Yeah, definitely. He's a player who when he's one against one, he's got pace, he's got strength, he's got the quality of going up and down, he's dangerous on goal. He's a great player for us.
"So does he have potential? Definitely."
Antonio challenged Hodgson himself, telling the London Standard "
"It would be a risk. So it's one of those things where it's whether he is willing to take the risk.
"I've turned down Jamaica to try to get the opportunity to play for England. So hopefully, he feels I'm good enough and wants to take a chance on me."
A leaked list suggested Mark Noble and Andy Carroll are on a standby list is now in doubt after the official England twitter account posted a picture saying FAKE. We will all find out the truth at 11am.
One West Ham fan, Kris Johnson tweeted England saying "If it's without one of Noble, Carroll, Antonio or Cresswell I'm supporting Payet and France."