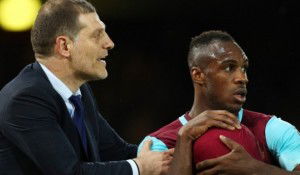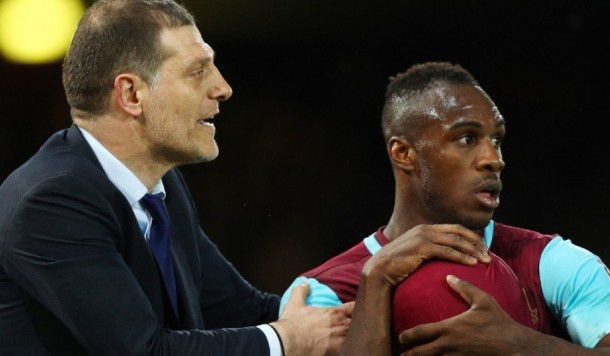 Slaven Bilic generally leaves little doubt in anybody's mind about plans for a weekend match – until today perhaps!
His press conference ahead of the game against Burnley provided more questions than answers and try as I may I find myself no wiser about the likely team for the weekend now than before he opened his mouth. Praps that was the plan!
He spoke for a long time but unusually for such a straightforward type of chap said very little when we came to analyse it afterwards.
The big message appeared to be that apart from Ginge and Quina everybody was fit – well sort of because there were an awful lot of provisos in there.
He explained for example that Chicharito was coming back today, has not been with the squad for a couple of weeks but would be training tomorrow…thus leaving a question mark over his involvement.
Yesterday the manager had revealed he has been working hard with two strikers over the international break and given that Sakho, Arnautovic and Hernandez have been away we assume he's talking about Carroll and Ayew so more questions marks because surely that won't be the pairing on Saturday.
Today he went on to say that some of the players  only started training on Monday so are still not completely  fit. He offered no names.
He went on to suggest that he could be in a position to name his strongest team claiming that is not a headache – it's always an issue. Not quite sure what that means
Then came more confusion when he added that he wasn't saying they will all play or start but "this is like the first time  we have had the possibility to put them team out we wanted in pre-season, on paper our strongest team."
The one certainty appearing to come out of it all was that Andy Carroll remains very much in his mind with him declaring that scoring goals wasn't the be all and all to his game.
He said: "Andy is not like that, he opens spaces, he is sometimes two or three around him that have to stop him which opens gaps and spaces. His flicks or playoffs with his head too, are key. For him to make an impact and to be very important, he doesn't always have to score goals."
His words told me little so we have to look at his track record this season in trying to arrive at a likely line up. I hope I'm wrong but this would be my guess: Hart, Zabaleta, Reid, Fonte, Cresswell; Noble, Kouyate, Lanzini. Arnautovic, Antonio and Carroll.
CandH's would be: Hart; Zabaleta, Reid, Rice, Masuaku; Kouyate, Obiang, Arnautovic, Antonio, Lanzini, Sakho