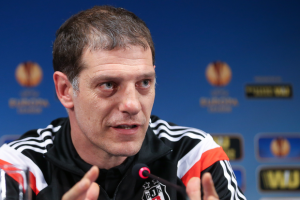 Slaven Bilic has confirmed he will leave Besiktas at the end of the season.
"I won't be Besiktas' manager next season. I'm proud of what I've done here," Bilic said after his team's 2-0 loss to Galatasaray on Sunday "As I said before, I am the first one who is going to take responsibility for not winning the league for two years. I have already made my decision." he added
Slaven Bilic remains the odds on favourite with the booker makers with odds as short as 1/5.
Harry Redknapp bought Bilic to West Ham in January 1996 for a fee of £1.3m, a club record at the time. He scored three goals in his time with West Ham; two in the Premier League against Liverpool and Sunderland and one in the League Cup against Barnet. Bilic played 13 games in the 95/96 season and 41 in the 96/97 season which also saw him voted a runner-up, to  Julian Dicks for Hammer of the year.
In March 1997 Everton brokered a £4.5M move with Bilić claiming he had a debt of loyalty to West Ham to stay with the club until the end of the season to ensure they were not relegated.