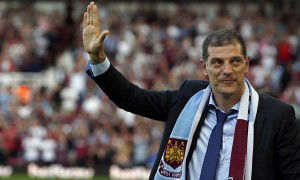 Slaven Bilic can expect to be handed a new deal as early as December if he get the club away to the sort of start he enjoyed during his first season.
There has never been a real appetite to part company with the manager and, as we reported earlier, he is set to lead the club into the third year of his contract.
This will be confirmed once and for all at the  review of the season board meeting on Monday ahead of Slav's hip replacement operation on Tuesday.
David  Sullivan's words about wanting Slav to prove he was not a "one season wonder" when asked towards the end of the 2015/16 season if a new deal would be on offer still stand at the end of a deeply disappointing season.
But the board have certainly not lost faith in the Croatian and will be ready to discuss a new deal at the turn of the year if things are going well.
CandH was told: "The Davids have a track record of backing managers and they always wanted to see him fulfil the contract and earn another. He is being given that chance. "