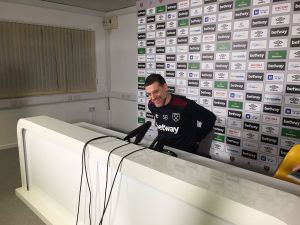 Slaven Bilic has briefed the press at this morning's pre-match press conference and started by telling reporters three key players have not trained.
Bilic told the press: "A few players have not trained like Cresswell, Carroll and Kouyate but we will wait and see tomorrow. It is not anything major. Andy felt something similar to what he had at Boro and hopefully he will be okay for Saturday.
This is the only week he has not trained with us since being back from injury. He trains 90 per cent of the sessions and that is key. It is always good for a player if they get called up for their country. Andy Carroll will take that as another boost if that happens.
Upturn in form – it's not just Andy.
We have players that have come back from injury, they have gained confidence and we have been on the winning track.
Everything has clicked.
West Brom – they are doing great. Their whole season has been amazing for them.
West Brom are a very strong team and hard to beat. They are great at set-pieces and very versatile. It will be a tough game on Saturday.
40 points is our first target.
We have a few of them, but we want to get to 40 points.
That is our main priority.
Since I have been here we have not been away during the season. We now have a gap and we are going to Dubai.  Dubai – it's a common thing to do."
There a few reasons, we have a gap, the players have some free time to recharge the batteries but first and foremost, we are going there to train.
They will be very important sessions for us, they will do us good.
If we weren't winning games and went, it might be different as to how it's seen by the fans.
We are going to be training more in Dubai than we would do here!