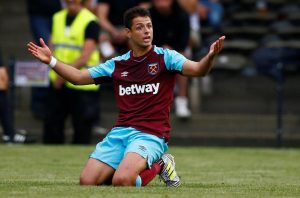 Slaven Bilic has defended playing Javier Hernandes out of position insisting he didn't play him out wide like a winger but explained he was more off the main striker.
"We are getting that confidence back as a team,' Bilic told the press. 'We were attacking. But to get three points you need quality up front, which we didn't have. The strikers were fighting and were part of the team but we could do more. We played with three strikers. There were a lot of positives by pressing them, keeping the ball, but if we are talking about shots on target there wasn't much of that.
 'Hernandez was not wide-wide, we are playing with three or five at the back so he is more off the striker. Of course in defensive work they were coming deep, which is why I am praising them.