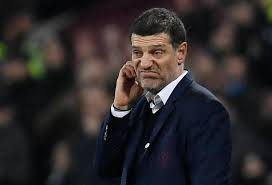 Slaven Bilic refuses to blame three away fixtures on the Hammers poor Premier League start to the season as we head for Newcastle tomorrow (Sat).
He said emphatically: "It's not a factor. This is a league where you have two away games or two home games quite a lot, frequently. It's not a big thing – we'd love to have one home game in-between, but it is what it is and it will even up by the end of October.
"The next four games we have three home games. We have Huddersfield at home then West Brom away before Spurs and Swansea at home so it will even up then. It is what it is but it's not a bad situation.
"I don't know how we can talk about away game syndrome when we've played only three and won one. And one in special circumstances against Southampton."
Despite Newcastle's win-less start which includes a defeat by Nottingham Forest in the League Cup, Bilic is refusing to over react.
He said: " It's a single game – it's a new game. They need points, but everyone does. They're looking forward to the game, they've lost the first couple like we did and they lost in the cup but it affects you. It affects the morale and it's better if you win any game, even if it's the cup.
"They have an experienced manager [Rafa Benitez] and they should recover for the game on Saturday."