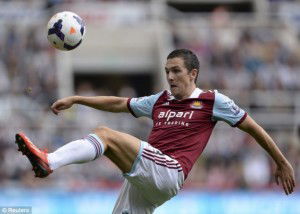 West Ham manager Slaven Bilic told a press conference he did not want Stewart Downing to leave the Hammers and because he was counting on the winger "big time" for next season.
Downing has rejoined hometown club Middlesbrough on a four-year deal.
"I didn't want him to go, he's a quality English player and I know how hard it is to get the quality ones," said Bilic.
"Of course I rate him, I tried to persuade him to stay with us."
"I know him from the national team when we played England, and he was brilliant in the first half of last season," added Bilic.
"I was counting on him big time, but he told me that he wanted to go home.
"He said 'I like you and everything, but I want to go home. If it was any other club, I would stay here'.
"Maybe I could have stopped him, and all that, however it is not what we wanted to do, but he wanted to leave."