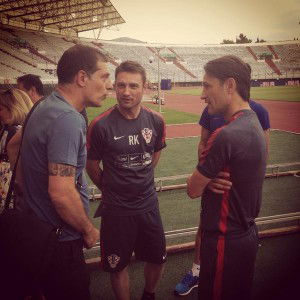 New West Ham manager Slaven Bilic took time out of his family holiday to visit the Croatian national team today.  Croatia play Italy this Friday at home in the European Championship qualifiers and Bilic is expected to attend as a guest of honour.
Bilic was previoulsy appointed head coach of the Croatian national team back in July 2006. In the Euro 2008 qualifiers, he led Croatia to a very successful campaign in a group consisting of  England, Russia, Israel, Macedonia, Estonia and Andorra.
Bilić managed to lead Croatia to a first place finish in the group, most notably masterminding home and away victories against England, who consequently didn't qualify and sacked their then-manager  Steve McClaren. It became England's first ever loss at the new Wembley stadium. Croatia suffered an exit in the quarter finals against  Turkey and Slaven admitted that the defeat would haunt him and his squad for the rest of their lives..
Croatia failed to qualify for the 2010 World Cup finals in South Africa after finishing third in the qualifying group, but Bilić decided to stay with the team for at least two more years.
Although Croatia qualified for the Euro 2012 championships they didn't proceed past the group stage after being beaten by reigning champions Spain. However, the national team under Bilic subsequently garnered widespread domestic praise for their tournament performance, and were greeted by a large crowd upon their return. Upon his formal departure, Bilić was praised for his long-standing service to the national side. Local media labelled him as Croatia's only manager to depart on such positive terms and credited him for his strong revival of the national side during his six-year tenure.