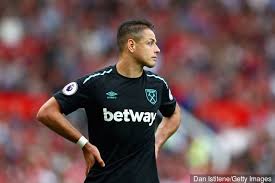 Slaven Bilic is taking the positives from the game against Saints as he bids to leave the bottom of the table.
He has never been in that position before  and declares: "I would like to change it and not to be that way, but to be fair, although I am very disappointed, we're going to take a lot of positives with the way we played the game."
One of those is Chicharito of whom Bilic declared: "We are very pleased that he is our player. He was our target and it was a long shot, but we never gave up on him and it was always possible.
"We had to fight with a few other clubs, of course, but we were delighted when we did it because we expected and knew what we were getting.
He showed on Saturday what he is all about. Plus, the work he did when we were down to ten and to play the whole second half in left midfield when he was needed [was outstanding].
"He knows we liked him because we wanted to get him when he went from Manchester United to Leverkusen [in 2015].
"We spoke then and I called him on the phone. He opted for Leverkusen and he called and said 'Thank you gaffer but I'm going to Leverkusen but maybe we'll speak again'.
"After two years we spoke again so we didn't start from zero. I know it helped him to choose us.
"It's almost impossible to mark him because he doesn't only have one movement and you can lose him. Even then, you don't have to lose him because he is so sharp over a few yards that gives him the advantage.
"He has a mixture. Most players who are quick don't have those movements, or the other way around, but he has both, and that's why that combination puts defenders in a tough situation when the cross comes in."