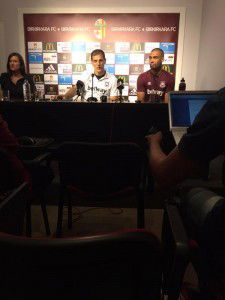 West Ham manager Slaven Bilic has described the first leg result against Birkirkara as "not ideal" in his pre-match press conference in Malta this evening.
With Winston Reid sat alongside him, Slav declared to the media: 'The score was not ideal. We were hoping to have one more goal but I wouldn't dream it was going to be an easy game.
"We should have scored earlier, which we deserved, but in the end we had a positive result and it should be enough if we score.
"I don't think it will be a hostile atmosphere. People are very friendly and nice here. Our players play in the Premier League, too."
"I am happy and this is my club. I played some of my best football in West Ham and I really enjoyed it.
"It is a family club. In the first leg, they went on the pitch as a unit and that impressed me most, as did the two centre-halves and the 'keeper. I wish they would change their approach but I don't think they will. They might press, but it's down to us how we let them play."