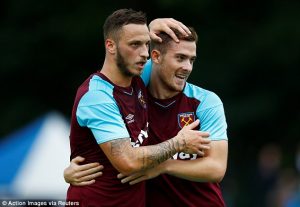 Slaven Bilic has told Marko Arnautovic he knows he is not deliberately letting us all down.
The 28-year-old has been deeply unimpressive during his time at the club which includes a three match ban for an elbowing incident.
But the manager has put his thoughts in perspective saying: "If someone is letting you down in life, that person is normally doing it deliberately
Marko – I've spoken to him a few times, he wants, he tries.
"It would be a disaster to put the blame on one, two or three players. We are all in the same boat, we are together. Marko is a great talent and proved himself in the Premier League.
"He really wanted to come here. His first spell was disrupted with the red card and then a bit of flu, and then the international break, but I'm very positive and I'm sure that sooner or later – but it will be important if it happens as soon as possible – that West Ham fans will be delighted with him.
"He has that quality and we all have to help him. That's why I also had a talk with him yesterday. West Ham will benefit from Marko Arnautovic."