Sl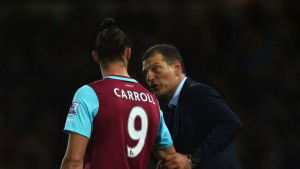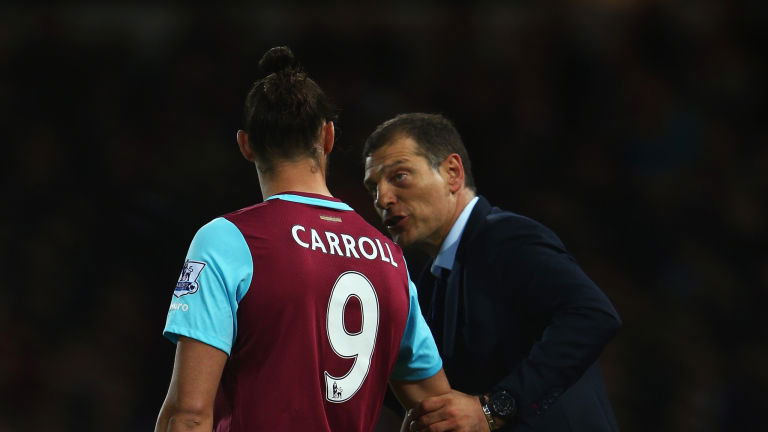 aven Bilic revealed his mixed emotions at the Burnley draw and savaged Andy Carroll for his sending off at Turf Moor.
Speaking immediately after the game to the official site he said:  "I'm proud of the team and how we played. When we were eleven against eleven, we were passing the ball and created a lot.
"We scored the goal and we had the momentum but then that momentum was ruined or stopped by that couple of bookings in the space of two minutes which, for a player of Andy's experience and everything, basically you can't do that.
"It wasn't deliberate, but you can't do that very early in a game and that was of course a big blow for us, although we defended well until half-time.
"We wanted to put on extra legs with Pedro Obiang in the midfield with Manu Lanzini on the left side and to try to get the ball and create when we had the chance. Then we looked really good in the first 15 minutes of the second half and had two really good chances to score a goal which would have given us extra strength.
"But it's very hard to stop an opponent for a long time who has an extra player getting in the position to put a good ball in or to shoot from 25 yards. We coped really well with those crosses, because they had bodies up front and we had bodies in our box, apart from that one good cross that we should have stopped because we had it two against one [out wide].
"Then again they had bodies in the box and put in a lot of crosses and we defended 95 per cent of them really well but it wasn't enough to get three points.
"When it happens really late in the game, you have those mixed emotions that you don't value this performance and this point as you would normally, or as it normally deserves to be. Because if it had stayed 1-0 it would have been heroic, but still one moment doesn't make it less heroic, as it's not easy to play with ten."
"I'm very frustrated and very angry," he admitted. "I have not spoken to Andy yet and I don't think about that [any punishment] now.
"I said that I'm very disappointed, not with the referee's decision because it was [correct]. The first one can happen, but the second one cannot happen, especially when you play away, then you are asking for trouble.
"I didn't speak with him at half-time, as I was concentrating on what to do in the game. I didn't see the challenge [from Tarkowski which left Carroll complaining moments before his bookings]. I only saw his couple of bookings.
"It is extremely frustrating. What can I do? He is a very brave player and not a lazy player, he is a player who is committing himself and that's his virtue and is a big part of his game.
"[For the second booking], he wants to win all the balls in his space and it was just an unbelievably bad decision to even go there."