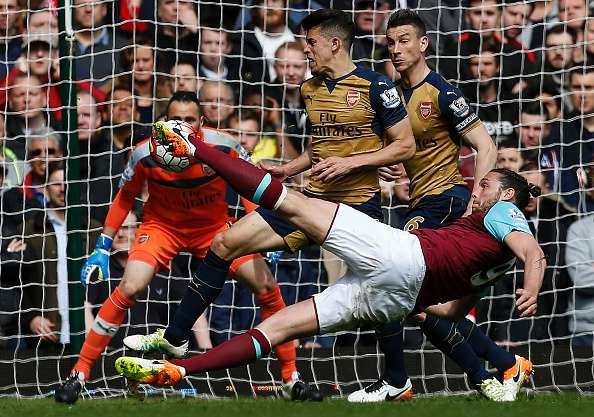 By Dave Gilbert
It seems a foregone conclusion. If Andy Carroll is fit, Andy Carroll starts!
I can see Slaven Bilic making his the first name on the team sheet  regardless of how anyone else is playing or as we have seen,even if it means others not being in their right positions.To a certain extent you can understand it. Carroll does offer a very dangerous aerial threat that most defenders would find frightening, but that about sums it up. Yes, he can sometimes show some good touches with the ball, but let's be honest; he's a pretty one dimensional player.
For Carroll to be dangerous in the air, he needs a lot of good quality crosses to attack, and he just isn't getting those. And then we come to his headed knockdowns. Now, this isn't unique to Carroll, but it's such a low percentage ploy.
How many times do you see a tall striker knock the ball down with his head and it goes nowhere near a teammate, usually ending up at the feet of a defender. When it works, it's great, but invariably it doesn't.
The problem is that Bilic has convinced himself that Carroll has to play and that he's a real difference maker when he's fit. I think part of the reason for this is that he's  nervous that West Ham simply can't create goals any other way.
At the back of his mind he's thinking that if Carroll can just get one good header on target, we just might win the game. Much like the rest of us, Bilic just doesn't know where the next goal is coming from, and I think playing Carroll gives him a certain amount of comfort because failing all else, they can just lump the ball into the box and see if Andy Carroll can get his head on it.
Here's what the West Ham manager had to say about Carroll recently:
"He is a player that can lift the whole team, we have been saying that for two years now.
"I have said is a hundred times, now 101, he is the player everyone knows, the crowd knows, the opponent knows, you cannot ignore.
"Whether you are playing with him or against him. You always know what he is going to give you and what are you going to get from him.
It's not only Bilic who puts  Carroll on some sort of pedestal. You often here pundits and journalists referring to him as one of the best headers of the ball in England if not the whole of Europe. They talk of him as being such a dangerous player and someone who can change the game.
It all may or may not be true but let's be honest – we are living on a hope that he does actually do this. He usually just ends up isolated, frustrated at the lack of balls to attack and calling for a foul every time he loses an aerial battle.
Carroll has made 185 appearances for West Ham and has scored 50 goals for us. 23 of those goals have been headers which demonstrates just how one dimensional he is. Bear in mind, he is in his 5th season with the club and that sort of scoring record is really not good enough. And he doesn't really create that many chances for others, having only assisted 18 goals during his time at West Ham. His shooting accuracy is pretty woeful at just 32%.
I know they are different players entirely, but if you look at someone like Sergio Aguero, you will see that Carroll's record doesn't justify him being an automatic starter. Aguero has made 186 appearances for Man City and scored 127 goals with a shooting accuracy of 42%.
And we haven't even mentioned Carroll's injury problem which is so  embarrassing it's truly best not to go there with even Bilic declaring that is he million dollar question. Reality check Slav… it's simply not good enough for our supposed main threat to miss so many games.
Alas, I don't expect things to change any time soon. Bilic has clearly put all his faith in Andy Carroll, and I would be very surprised if he doesn't carry on playing him up front on his own and sticking what could be our best ever striker out on the wing.like many of you
It's truly criminal that Bilic cant, or refuses to find a way to play Javuer Hernandez in a position where he can actually score goals. He is thefox in the box, and thrives on attacking balls. He is totally wasted out on the wing and  I just don't know why Bilic has persisted with this strategy.
Truth is Bilic is too scared not to play Carroll. It's as if he wouldn't sleep at night if he didn't put him in the starting eleven. He perceives Carroll as more of a threat than he actually is. And instead of changing formation or tactics, he just throws Carroll onto the field in the hope that he might just find a goal.
Much like our football this season, it shows a nervousness and a lack of ambition that really will see us struggling for the rest of the year, unless changes are made. Be brave, Slav!!
These are the individual views of the blogger and don't necessarily represent those of ClaretandHugh